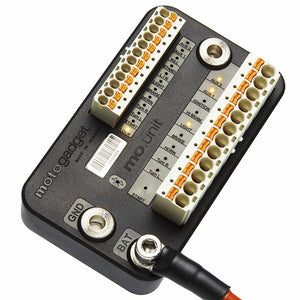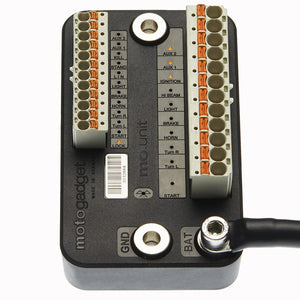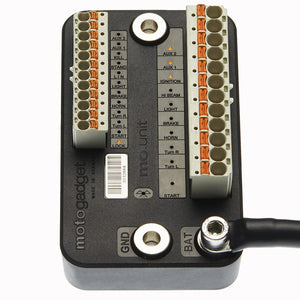 mo.unit blue
The new mo.unit blue has moved on from the established previous version by undergoing significant development and improvements. It is now equipped with 12 inputs and 10 outputs, replaceable high-quality cable clamps and, most notably, Bluetooth® LE. This enables the mo.unit blue to be connected to Motogadget 'm.ride' smartphone App. This feature is unique for motorbike accessories. 

The m.ride App manages the entire setup and alarm system. Fault diagnostics can also be performed during operation and without having to remove the mo.unit. The secure, encrypted Keyless Go function can also be used. 

When this function is activated and you approach your motorbike with your smartphone, the on-board electrical system is activated and the motorbike is ready to be started. 

The mo.unit blue is the digital control unit for your motorbike – the heart of the entire on-board electrical system. It can be operated using buttons or using conventional handlebar switches. It controls all necessary components on the vehicle while also performing fuse functions. 

There are considerably fewer relays and individual components in the wiring harness and the vehicle can be rewired with less effort in a very short amount of time. 

When using the mo.button, all switch connections are reduced to one single cable.