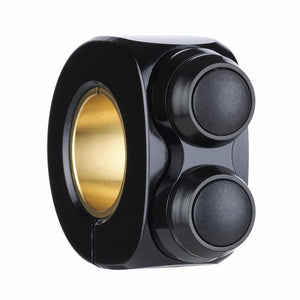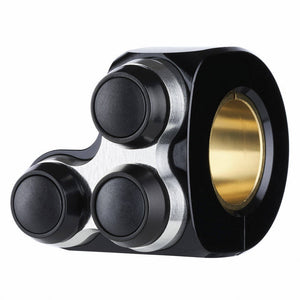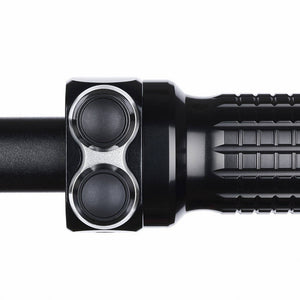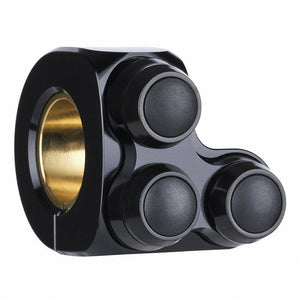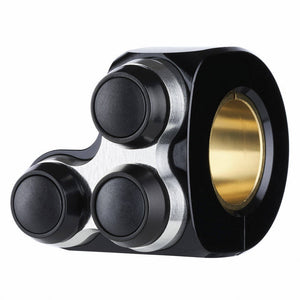 mo.switch basic
The mo.switch basic is a universal, high-quality push-button control for handlebars with 1 inch or 22 mm (7/8 inch) tube diameter in a simple, elegant design. In combination with an electronic push-button control box (not included), these CNC-made push-buttons can switch all electrical units such as lights, indicators, electric starters, horn and much more.

CNC-milled from billet aluminium the housing is anodised in glossy black. Optionally, the button holder (inlay) is also available with a silver anodized color. The compact housing is equipped with either two or three push buttons. All buttons are always in direction to the driver.

The two or three buttons per unit are always black. A hidden M4 stainless steel mounting screw clamps the housing securely to each handlebar.

The individual buttons are of high quality, very robust and protected against vibrations and splash water (IP65).

Due to sufficient size and ergonomic pressure point (light, mechanical detent), they allow a safe operation - even when operating with a glove.

A single-wire or two-wire wiring is easily possible by two terminals per push-button. One terminal for ground is already provided internally for single-wire wiring. Cable routing in the handlebars is therefore easy.

In case of possible damage, the single push-buttons are available individually and can be replaced.

The mo.switch basic is of course compatible with all common push button controls such as the mo.unit blue/basic.