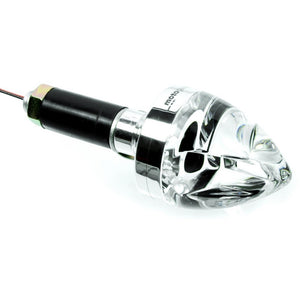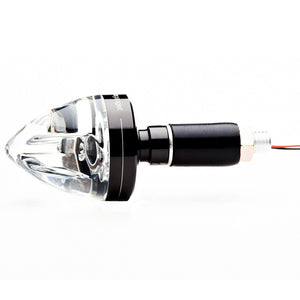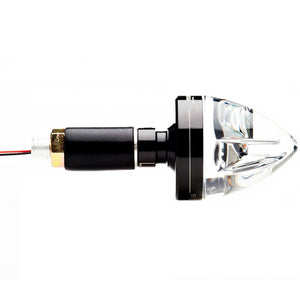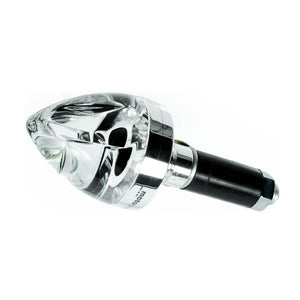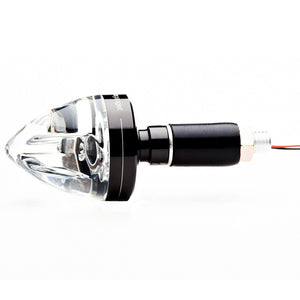 mo.blaze cone
mo.blaze cone by motogadget – a lot more than just a turn signal for handlebar end installation.
The mo.blaze cone is the latest generation of turn signal lights. It is a completely new concept, design and technically sophisticated implementation of a familiar component.
Using the new motogadget TranzLight-Technology (TLT, patent pending), the transparent turn signal body becomes the light-emitting media itself.
TranzLight-Technology smartly uses the total internal reflection of light waves at the interfaces of two different optical media densities. This progressive approach to development is not limited to the miniaturization of turn signal casings. Furthermore, it introduces new lighting concepts directly through a crystal-like glass body.
Only the precision of CAD calculations and state-of-the-art cutting-edge processes allow the manufacturing of this type of modern illuminant and offer new design and performance opportunities.
A 'reduced to the max' subtle aluminium casing on the base is used for the secure mount of the glass body only and encases the electronic control system and high-end LEDs.
Traditionally, the casing is machined from solid aluminium, anodized black or high gloss polished and furnished with an elegant finish of laser inscriptions. With its transparent glass body, the mo.blaze cone presents a very neutral and subtle look. That's why the mo.blaze is the perfect match to many styles and all types of motorbikes.
mo.blaze cone, the turn signal for handlebar end installation introduced here, has E mark and front turn signal approval. Awarded by the iF product design award 2013.
Can be operated like any other LED turn signal with load resistors or all load independent flasher relays from motogadget (mo.flash, mo.wave, mo.stop, mo.relay+)
Always make sure to order a complete set consisting of the left and right side turn signal assembly.